Welcome back to Delicious Dish Tuesday ~ a weekly recipe hop for and about delicious food.
I don't know about you, but I love spaghetti and enjoy experimenting with different recipes. There is something to be said about the tried and true spaghetti with meat sauce. I recently blogged how we make it work on our busy schedule and it is definitely my husband's favorite spaghetti recipe.
I also love making healthy alternatives to our "traditional" recipe. I have wanted to try and make spaghetti squash for years but am always intimidated by it. Last week This West Coast Mommy linked up her Spaghetti Squash Bolognese.
I love the use of a bolognese sauce with the spaghetti squash. I *try* to watch my carbs when I can. This seems like a recipe that will not leave you wanting or feeling like you are missing out. I am definitely going to try this one!!
What is your favorite spaghetti recipe? Please link it along with any other great recipes you have below!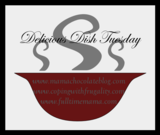 ~Please include a link back to one/any of the host sites (through worded link or badge). The Delicious Dish Tuesday hosts include:
Alesha of Full Time Mama and
me, Amanda of Coping with Frugality