Welcome back to Delicious Dish Tuesday. We love sharing our recipes with you each week and hope you enjoy hopping around to all the other recipes as much as we do.
This year we had been having a more "mild" summer until August hit. Now we are over 90 degrees (no not the horrible boy band) every day and the last thing I want to do is slave over a hot stove and oven to make dinner.
It is also the "season of squash" in our garden. We are producing dozens of perfect yellow and zucchini squash each week. As long as we pick them before they get too big there are amazing in fresh and clean summer dishes.
One of my favorites is my Summer Vegetable Salad.
Last week Lori shared her Summer Squash and Shrimp Pasta as an easy weeknight meal. I love the addition of the goat cheese once everything is cooked!
What delicious dish do you have to share with us this week?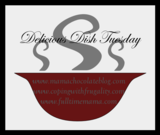 ~Please include a link back to one/any of the host sites (through worded link or badge). The Delicious Dish Tuesday hosts include:
Alesha of Full Time Mama and
me, Amanda of Coping with Frugality