Thank you for stopping by for another week of Delicious Dish Tuesday – a recipe hop all about wonderful food!
Yes, I know today is actually Siete de Mayo.  However, Sunday was Cinco de Mayo and why not celebrate all week?!
  We love Mexican food in our house!  Below are some of my favorite Mexican recipes.
In the winter my friends and I get together to have a tamale making day.  It seems daunting until you get going and then it really isn't too hard as long as you have enough hands (I walk you through a very easy how-to in my post!).
If you are looking for a healthy Mexican treat check out my vegetarian toastadas.
And now for something completely different (Monty Pyton anyone?) check out my Mexican Lasagna.
Last week Laura from Mom Mart who can always be counted on to share good recipes with Delicious Dish Tuesday shared her recipe for Black Bean Avocado Corn Salsa.  I love the flavor combination.  Plus – you get a ton of protein just from the salsa so these chips and dip just may be my next meal!
And Madame Deals shared her love of UFC and her recipe for Low Calorie Chicken Nachos.  I will definitely be making these soon!
What are your favorite Mexican recipes?  Link them and any other great dish you have below!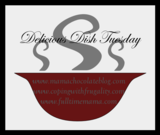 ~Please include a link back to one/any of the host sites (through worded link or badge). The Delicious Dish Tuesday hosts include:
Alesha of Full Time Mama and
me, Amanda of Coping with Frugality