Welcome back to Delicious Dish Tuesday ~ a weekly hop all about delicious food.
I am a big snacker, I always have been. I would prefer to eat a bunch of little snacks all day long rather than eat three large meals. Now that I am breastfeeding it is important for me to snack properly and not miss meals. However, snacking can be a dietary nightmare if you don't watch what you eat.
One of my favorite snacks is granola. You can eat it plain or mixed with yogurt and fruit. But you have to watch the label on your granola. It can be full of unnecessary fat and sugar. I love my Low Carb – High Protein Granola recipe as a go to snack.
Last week Little Connections Add up to a Lotta' Life shared some great ideas for good snacks for growing kids that are also great ideas for nursing moms.
Do you have a great snack recipe or other delicious meal to share? Please link up below!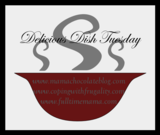 ~Please include a link back to one/any of the host sites (through worded link or badge). The Delicious Dish Tuesday hosts include:
Alesha of Full Time Mama and
me, Amanda of Coping with Frugality