Happy Tuesday and thanks for coming back to join us for another week filled with delicious recipes!
As my due date draws near I have been making extras of our favorite meals to have on hand in the freezer so that dinner won't be a hassle those first few weeks. One of my husband's newly found favorite meals is my Homemade Hamburger Helper. I can't believe it took me 10 years to come up with something that he liked better than the nasty boxed stuff that was also fairly easy to make and budget conscious. It also freezes great!
Heidi from Crock Pot Ladies shared her recipe for Crockpot Cowboy Casserole last week and it seems like another simple recipe that my husband would be head over heels for! Potatoes and beef are never wrong in his book.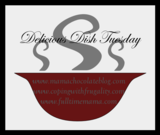 ~Please include a link back to one/any of the host sites (through worded link or badge). The Delicious Dish Tuesday hosts include:
Johanna of Mama Chocolate
Alesha of Full Time Mama and
me, Amanda of Coping with Frugality