Thank you for stopping by to another edition of Delicious Dish Tuesday ~ a Food Carnival all about delicious eats! This week I am featuring recipes that utilize fall produce. As the weather cools off the seasonal produce changes. I love finding new uses for dark leafy greens, sweet potatoes, and pumpkins.
This weekend I shared a super easy, healthy, and ridiculously yummy recipe for Microwaved Baked Apple for One. I have been making this a lot lately when I am up working late and want something sweet.
Last week Mama Making Changes linked up her Farmer's Market Dinner which shared a great way to use fall produce as well as really interesting facts about grass fed beef and butter!
What recipes do you make that use fall produce? Please link them and all your other delicious recipes below!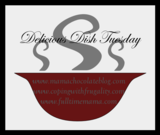 ~Please include a link back to one/any of the host sites (through worded link or badge). The Delicious Dish Tuesday hosts include:
Johanna of Mama Chocolate
Alesha of Full Time Mama and
me, Amanda of Coping with Frugality