Welcome back to another week of the recipe hop all about delicious food! I know I have shared a lot recently about tomatoes but when you have a garden full, your life kind of gets consumed with them. I took a break for a while because even I had had too much. But I am back this week with another great tomato recipe.
This recipe leaves the tomatoes in their unaltered delicious state and presents them atop of an amazing combination of flavors. You are sure to love this Toasted Bruschetta with Crispy Proscuitto.
Last week Jessica's Casserole shared her recipe for Fried Pickles. With this baby I am all about fried food and what pregnant lady doesn't love pickles?! This was total food porn for a pregnant woman
Thanks for sharing!!
Please link up your fabulous recipes below. We love checking out all the great recipes each week!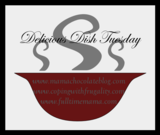 ~Please include a link back to one/any of the host sites (through worded link or badge). The Delicious Dish Tuesday hosts include:
Johanna of Mama Chocolate
Alesha of Full Time Mama and
me, Amanda of Coping with Frugality