Our tomatoes are finally ripening, and of course, now we have them by the bucketful. One of my favorite things to make with them is salsa because fresh salsa isso much betterthan store bought salsa and homemade salsa is so easy to make! I usually don't follow a recipe ~ just throw together some cilantro, onions, jalapeno, and the tomatoes. From there you can add all sorts of twists depending on what you are in the mood for or what you have on hand. Below are a couple of my actual "recipes" for salsa.
Last week was a little slow here at Delicious Dish Tuesday. We were all busy, especially Johanna from Mama Chocolate who had just had her baby girl!! Stop on over and congratulate her
Thank you for those who linked up and thank you Jayne for linking up your Leek-y Chicken and Couscous. That sounds amazing and I am definitely going to have to try it!!
What are you making this week? I am sure it is something delicious so please link up below!!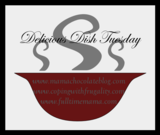 ~Please include a link back to one/any of the host sites (through worded link or badge). The Delicious Dish Tuesday hosts include:
Johanna of Mama Chocolate
Alesha of Full Time Mama and
me, Amanda of Coping with Frugality